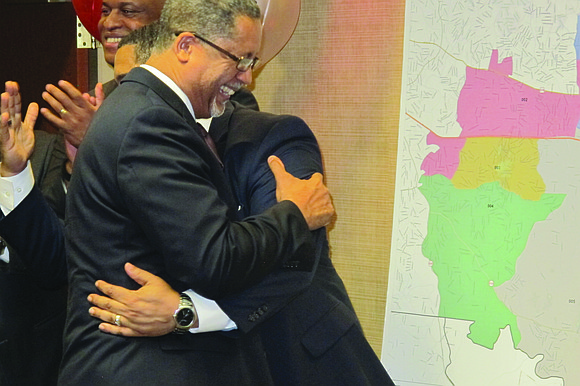 Residents interested in running for office in the new city of Stonecrest will find out next week when qualifying for mayor and city council will begin.
The DeKalb Board of Voter Registration and Elections will vote on Dec. 12 on the qualifying period and election date.
It is expected to schedule qualifying for Jan. 9-11 and election day on March 23. The qualifying fee for mayor is $600 and $450 for city council candidates.
Senate Bill 208, passed by the Georgia legislature in the spring, calls for the 50,000-population city to be up and running by April 1.
Jason Lary, a city organizer and chairman of the Stonecrest Yes committee, says he will run for mayor. He announced his intention on Nov. 30, the day after a rally to celebrate voters' approval of the city on Nov. 8.
"People told me they preferred new blood and didn't want a recycled politician for the city's first mayor," Lary said.
As of press time Thursday, no other candidate had announced for mayor.
Interim DeKalb CEO Lee May denied rumors that he was considering running when he leaves office on Dec. 31.
"I get asked that question five times a day," he said Thursday with a laugh. "I don't know where that is coming from. I haven't discussed this with anyone and more importantly, I don't even live within the boundaries of the city."
The new city will have five council districts; through Thursday, two potential candidates – George Turner and Diane Adoma – said they were considering runs for Districts 4 and 5, respectively.
No candidates have yet stepped forward for Districts 1, 2 and 3.
District 4 covers the neighborhoods bordered on the north and east by Rock Springs and Evans Mill Roads and by Snapfinger Road along the western and southern edges.
Turner, who is president of the Hunters Run II Homeowners Association, said he'll make an official announcement soon but is already focused on quality of life and economic development issues.
"First, we should launch a clean-up to get rid of litter and possibly sweep the streets to improve the area's appearance," Turner said. "We can make a statement right away by peeling back the layers so people can see the beauty of this area. Then, as quickly as possible, the city of Stonecrest should deliver on its promise of economic development."
Fresh from an unsuccessful run for DeKalb Commission Super District 7, businesswoman Adoma said she is talking with supporters about seeking the District 5 council seat. It is bordered by Interstate 20 to the north, Evans Mill Road on the west, Browns Mill Road on the south, and Woodrow and Rockland roads to the east.
She said the district covers much of the area she would have represented on the BOC.
Adoma, who owns two H&R Block tax preparation businesses, believes too that Stonecrest has a time-sensitive window of opportunity to attract quality new development.
She promises to be a strong advocate for economic development.
"We have some of the highest per capita income in the metro area and we shouldn't have to drive miles across town to find a Whole Foods or Trader Joe's type business," she said.